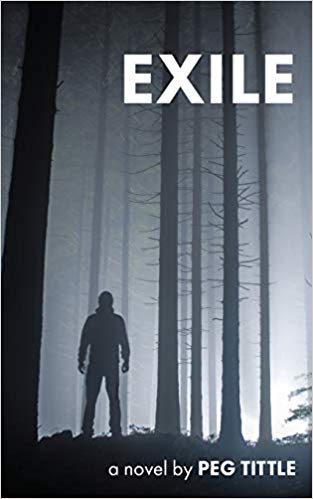 Three strikes and you're out.
That's the iron-clad rule in a near-future North America where patience with crime–and criminals–has run out. First offenders are educated about the consequences of their crimes, the goal being effective rehabilitation. Second offenders are sent to prison in the hope they'll get the message. And those who offend a third time . . .  They're kicked out.
In this intriguing novel, novelist and philosopher Peg Tittle explores the consequences of crime and punishment in a world in which repeat offenders are permanently expelled from society. LJ is one such offender, who finds himself escorted into a partitioned area of northern Canada. Exile is the story of his quest for survival and, eventually, restitution.
Rock's Mills Press 2019
A screenplay version of Exile was a Finalist in the WriteMovies competition and a Quarter-finalist in the Fade-In competition.  (Interested parties, please inquire!)
Available in various eformats (Kindle, Kobo, NookBook, iBook).  Also available in print at Amazon, Barnes and Noble, Chapters/Indigo, Book Depository, Bookshop, and quite possibly wherever you buy your books online.
"Thought-provoking stuff, as usual from Peg Tittle." James M. Fisher, The Miramichi Reader