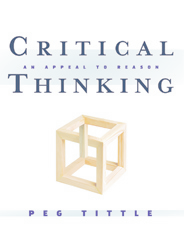 Critical Thinking: An Appeal to Reason
Routledge  2011
IMPORTANT NOTE TO INSTRUCTORS AND STUDENTS:
Apparently when Taylor & Francis acquired Routledge, they did not acquire (or lost) the ancillaries for my critical thinking text and have decided to discontinue the companion website at which said ancillaries were available.  Therefore, I make available here, for download (free of charge), the following:
Answers, Explanations, and Analyses – for the odd-numbered in-chapter exercise bits (an extensive 'Answers' section intended to go at the back of the text, but due to its length, 287 pages, Routledge decided to make it available online only)
Instructor's Manual – including answers, explanations, and analyses for the even-numbered in-chapter exercise bits (237 pages — yes, Instructors/Professors, I've done all this work for you!)
Propositional Logic chapter – not included in the text (53p)
Categorical Logic chapter – not included in the text (51p)
Ethics chapter – not included in the text (36p)
*
In Critical Thinking: An Appeal to Reason, Peg Tittle empowers students with a solid grounding in the lifelong skills of considered analysis and argumentation that should underpin every student's education. Starting with the building blocks of a good argument, this comprehensive new textbook offers a full course in critical thinking. It includes chapters on the nature and structure of argument, the role of relevance, truth and generalizations, and the subtleties of verbal and visual language.
Special features include:
• an emphasis on the constructive aspect of critical thinking—strengthening the arguments of others and constructing sound arguments of your own—rather than an exclusive focus on spotting faulty arguments
• actual questions from standardized reasoning tests like the LSAT, GMAT, MCAT, and GRE
• graduated end-of-chapter exercises, asking students to think critically about what they see, hear, read, write, and discuss
• numerous sample arguments from books, magazines, television, and the Internet for students to analyze
• many images for critical analysis
• analyzed arguments that help students to read critically and actively
• an extensive companion website for instructors and students
A companion website features:
• for instructors: an extensive instructor's manual; a test bank; and PowerPoint slides
• for students: extended answers, explanations, and analyses for the exercises and arguments in the book; supplementary chapters on logic and ethics; downloadable MP3 study guides; interactive flash cards; and thinking critically audio exercises.
*
Available in various eformats (Kindle, Kobo, NookBook, iBook).  Also available in print, at Amazon, Barnes and Noble, Chapters/Indigo, Book Depository, Bookshop, and quite possibly wherever you buy your books online.
*
"Peg Tittle's Critical Thinking: An Appeal to Reason is the ideal book for any class, philosophy and otherwise, in which evaluating arguments is central. Few texts are as thorough, and none are as accessible, clear, and pleasurable. Critical Thinking is chock-full of examples of arguments and fallacies from Tittle's fecund imagination, as well as an astonishing breadth of sources from classic to contemporary—enough to capture any student's attention. Add to this some wonderfully lucid diagrams, and you have a book that is unmatched by any in its field." Ron Cooper, Professor of Philosophy, College of Central Florida
"Critical Thinking is appealing because it is carefully and clearly written, presents concrete and contemporary examples, and is well organized to capture the heuristic that guides students in learning to think critically. In addition, the template for the critical analysis of arguments (introduced in Chapter 1 and helpfully repeated in each chapter) is clear and effective." Lauren Weis, Assistant Professor of Philosophy and Religion, American University
"Peg Tittle's Critical Thinking is a welcome addition to a crowded field. Her presentations of the material are engaging, often presented in a conversational discussion with the reader or student. The text's coverage of the material is wide-ranging. Newspaper items, snippets from The Far Side, personal anecdotes, emerging social and political debates, as well as LSAT sample questions are among the many tools Tittle employs to educate students on the elemental aspects of logic and critical thinking." Alexander E. Hooke, Professor of Philosophy, Stevenson University
"I was asked to examine this title by the publisher. When I first began teaching logic and critical thinking I used an old dinosaur of a text. It focused on formal logic, but contained a quick introduction to informal logic. Recently, I took on a teaching assignment at a community college that was exclusively focused on informal logic. So my old dinosaur wouldn't do. Around the same time I received a copy of this book and it is wonderful. It is well written. Though it is focused almost completely on informal logic. Perfect for my current needs. " Marcus Cooper
"The best I've read illustrating critical thinking.  Covers nearly every important for the subject and in a very clear, content rich and easy to follow manner. From the value of critical thinking to argument analysis & fallacies and the book even touches some truth theories. I think this is an excellent introduction to the topic and great for self-study. " 5/5 stars  G. Baruch
"Best Critical Thinking book out there.  This book is worth its weight in gold.  The author must definitely love critical thinking because this book is filled with love. Every single page is written with care and there are plenty of examples for practice. This books is definitely is perfect for those who like lots of practice questions and examples, and the book's companion website has free supplementary material that could fill two more books of this length. I'm really surprised that there are not more reviews for this book. I came to Amazon.com to see what other customers who read this book also enjoyed reading; saw only one review, and had to log on just to write one. This book is worth about $200 and should be used in every university's philosophy department for critical thinking courses."  A+++  5/5 stars  Daniel Millsap
"Critical Thinking: An Appeal to Reason gives students an extremely clear explanation for difficult logical arguments.  This book is significantly easier to understand than other logic books I have read in the past."  Josh D., student
"As a student who has previously taken a critical thinking course using another textbook, I found this particular textbook extremely helpful and easy to understand. The way it breaks down how to recognize and understand an argument allows any reader to comprehend what the book is explaining." Brittany F., student
"The exercises make the concepts really clear." Brian W., student
"Critical Thinking: An Appeal to Reason  is a brilliant book that actually teaches you to 'think differently'. Using Critical Thinking and the actual LSATs put out by LSAC, I scored a 169 on my first practice test." Pete Baldwin, President, Platinum Realty Network, Law School Candidate
"I love it! Critical thinking is counter-intuitive. Rarely people think critically unless they teach themselves to do it . This book will show you how." 5/5 stars, Maverick
"Great text! This is an excellent critical thinking text written by a clever and creative critical thinker. Her anthology "What If?" is excellent too: the short readings are perfect for engaging philosophical issues in and out of the classroom. This book has a helpful webpage from the publisher with extra material and exercises, but Amazon won't let the link be posted." 5/5 stars, Ernest Borgnorg